[PVGM id=125]
Having completed the third painting in the Prediction Collection I realised my perception of the outside world had changed, I no longer liked what I saw –
Money is more valuable than Love, Selfish illusion more important than the truth.
So I closed the doors (and windows) and "Painted the views" I wanted to see, beauty, dreams, trust….the Rabbit Holes I was ready to explore. Having done so I saw so many people just desperate for the courage to come along.
Those of you that know me well, will know the short period of time I have left, will I stop fighting for my children's future?  No!
Even if that means painting the truth on the wall as in the Prediction Collection or Beautiful Windows for them to remember the love of the world.
ADVERT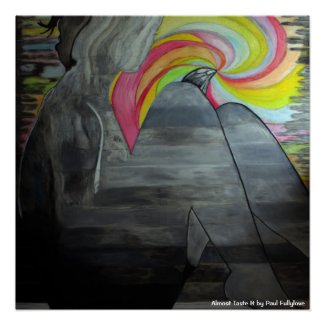 Wall Mount Print-Almost Taste It by Paul Fullylove
Find more Almost Posters at
Zazzle